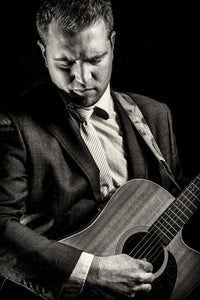 Platinum Music Package
Regular price
Sale price
$1,800.00
---
This package is everything you need so that there will be music flowing all day & all night long! This is a personalized music experience in which we will get to know you and learn about your favorite songs, types of music, and style. On the day of your wedding we will take care of everything as you and your guests enjoy seamless music transitions over each segment of your celebration.
This package includes:
1.
Brad performing live during your:
CEREMONY
COCKTAIL HOUR, as well as
OVER DINNER. 
2. Our DJ will support your WEDDING RECEPTION which includes the music for your EVENING PARTY (and much more).
3. All the equipment and supplies we need, down to the last detail.
Let's take a closer look at the details:
Your Ceremony: Gentle live guitar music plays as guests take their seats. Brad will learn up to 3 songs, one for the procession, one for the bridal entrance, and one for the recession. Brad will also perform light music during the signing of the documents. We supply all Audio equipment, including a wireless mic for your officiant to be heard well by everyone.
Live music can be interchanged with the recorded versions of your favorite songs, played over our speaker. We want to allow who you are to shine through every aspect of the day and to show off your unique style. It is up to you really.
Your Cocktail Hour: Brad continues your the celebration by performing music to compliment the atmosphere and remain tastefully in the background (with guitar & vocals). Music genres include contemporary, country, pop, jazz, RnB, etc. Again, we provide all equipment necessary for your cocktail hour which can be set up in a different location than the ceremony and reception if need be. 
Over Dinner: Performer will entertain guests with guitar and vocals with a similar vibe to the cocktail hour. Music will not be overpowering but will be a nice addition to create the perfect atmosphere. Our DJ will be set up before dinner to play you and your wedding party's entrance theme songs!
After dinner our DJ will take over and get the party started. 
Your Evening Party!
Our DJs are so much fun and love what they do. Your unique flavour continues to shine through as everyone party's hard and our DJ reads and plays to the crowd. It's finally party time. Your evening party comes with:
All Audio/Visual needs: We will set up all sound and lighting equipment for the reception. This includes a wireless microphone for use during speeches, our speakers, our decor, and multiple lights that react with the music. 
Reception entrances music: Our DJ will play a choice of your pre-selected songs for the introductions into the reception
Music for mother-son, father-daughter, and couples first dance: We will go through all of this together to make sure you are on track!
DJs call time: The DJs call time for the day will be 8-hours which gives us a ton of time to work with. Additional time can be added if necessary!
Potential Add-ons:
MCing: For an additional fee, our DJ will conduct the master of ceremony duties during your reception ($200.00).
Extra Time: We can keep the party going later into night if everyone is having fun and can keep up with our DJ for even longer ($100.00 per extra hour). Our 8-hour reception DJ time is usually enough though! :)
Booking Us:
At the top of this page you can view my availability for your date. This allows you to make your booking directly on our system which is nice and convenient. A deposit of 50% of the package is required upon booking which allows us to set aside your date and to begin planning. Our availability is limited as a booking removes that day from our availability. The good news is that this system will make you my complete focus on your big day! I will provide a contract as well as a receipt and I am happy to meet you in person to go over the details and trade signatures on the documents.