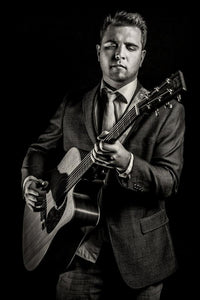 Jennifer's birthday
Great variety of songs. Everyone loved it.
Thanks for that Ken! The pleasure was mine! :)
Blown away by Brad's talent!
We hired Brad to play at my mom's surprise 65th birthday party. We hadn't heard him play before but he had great reviews so we decided to take a chance. We were honestly BLOWN AWAY by how talented he was! He had a great list of songs, his voice and guitar skills are outstanding, he did a fantastic job adjusting to the crowd (when we were eating he became background music and when the crowd was engaged he became the entertainment). He played all the songs we asked him too. And he was very professional (arrived on time, was friendly to the guests, and was easy to work with). I would definitely recommend him and look forward to working with him again.
Briana,
Thank you very much for the glowing review, I was really happy to add something special to your guys day. I hope your mother loved her surprise party. See you sometime in the future at another party perhaps! :)
50th Birthday backyard party
Bradley is not only a great entertainer, he is a great guy! Personable and reliable. My guests and I truly loved having him entertain us all night. Singing and even playing along at one point!! I would recommend him for any occasion!! Thank you so much Bradley!! Hope to see you again some time! ❣️🎉
Carrie, thanks for the great review! I had a great time performing for you guys! :)
Backyard Party
Brad was outstanding, made for an amazing night.
Great song selection, everyone wanted his card to play at their own event.
Brad already book a few events from the night.
Fantastic will use him again. 10 out of 10 experience.
Craig, thanks for the great review! I had a great time with you and your guests! Can't wait for the next show with you guys.
Awesome addition to our party
We had seen Brad perform at a 40th wedding anniversary party and knew right away he would be a perfect addition to our son's wedding rehearsal party which we were hosting at our home.
Brad is very professional. He is excellent with communicating via text/email prior to the event. He was on time and was independent in his set up.
Brad sang for over 2 hours........ non stop. He sang a wide variety of popular music which provided wonderful backdrop entertainment. He happily took requests and encouraged the group to sing along. Our guests, of all ages, commented that Brad
"made the party".
We would highly, highly recommend Brad for any group gathering.
Paul and Val,
Thanks again for trusting your event with me, you were all an absolute pleasure to perform for. It was great having all those backup singers! Cheers guys till next time.
-Brad